I make a large variety of parts for Cub Cadets. I can make custom parts too. All parts are made by myself, I'm a machinist / fabricator with over thirty years experience.
Please contact me by E-mail at:
[email protected]
Heavy duty sleeve hitch adapter
with two drilled lifting straps
or
two slotted lifting straps
​
$110 plus shipping
$125 plus shipping with one set of drilled and one set of slotted straps
Add a
Lift Pin
for an additional $10
triple drilled lift pin for an additional $15
Extended length to clear tiller mount add $5
I can make these custom length if needed.
~~~~~~~~~~~~~
Lift Pin
for rear lift casting, double hole. I drill these so they can be positioned with the holes vertical or horizontal. They are secured with a 3/16" cotter pin and also have a cotter pin where it goes thru the casting.

​
$17 plus shipping
triple drilled long length available too
~~~~~~~~~
Height adjuster Knob
for 1/1A/2A tillers using 1/2-13 threaded rod. Has correct milled radius on bottom to match rear lift pin.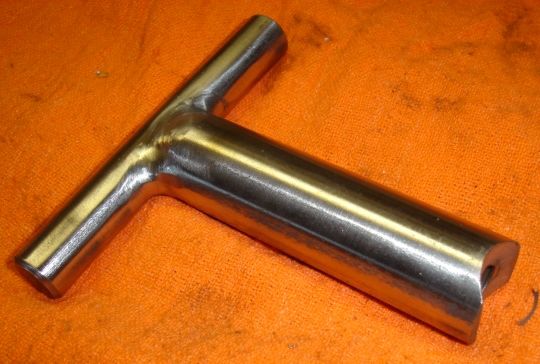 ​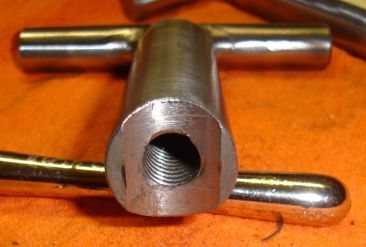 ​
$18 plus shipping
~~~~~~~~~~~
1/2-13NC
threaded rod
for use with above knob ( or factory knob )

​
$6 plus shipping
~~~~~~~~~
Brass PTO button
​
$5.50 each plus shipping
~~~~~~~
Pair of "frankenstein" bolt and nuts for WF rear lifts
​
$30 plus shipping
~~~~~~~~~
Pair of straps
for the front of the QA mounts. No more fumbling with bolts,nuts and washers. Slide these in the hole and secure with a 1/2-13NC in the factory welded nut inside the frame.
​
$12 plus shipping
~~~~~~~~~~~
Solid Motor Mounts
for QL & WF tractors, with washers, Grade 8 flanged bolts and nylock nuts.
$40 plus shipping for set of four.
​
~~~~~~~~~~~
Headlight rings
for 1X2/1X3/1X4/1X5
​
$32 per pair plus shipping
~~~~~~~~~~~
90° Gear Box Shafts
for tillers and snow throwers. Made from 3/4" diameter 4140 P alloy steel ( turned ,ground and polished ) with on size keyways and snap ring grooves cut.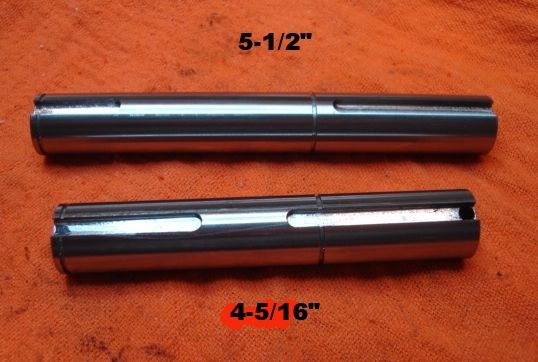 $48 each or $92 for the pair plus shipping
If you have a "BB" angle drive gear box, I can make those shafts if you send me the shaft to copy ( it will be returned if wanted )
Just found out there are two different lengths of the short shaft in the 90* gear box. One ( as pictured above ) at 4-21/64" long and the other at 4-1/8" long.
Just let me know which one you want.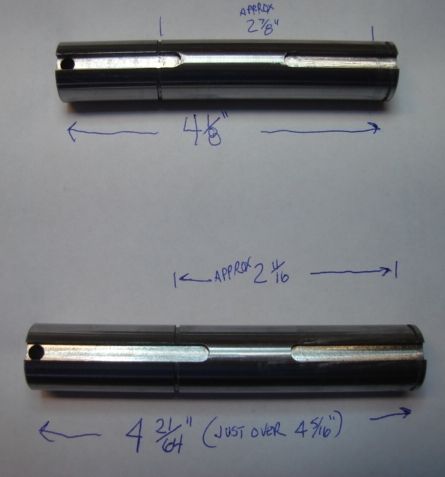 ~~~~~~~~~~~~~~~~~~~~~~~~~~~~~~~~~~~
Two more different lengths. Top on is 5-15/16" long and the bottom is 4-9/64" long
~~~~~~~~~~~~~~~~~~~~~~~~~~~~
Transfer shaft for the QA snow throwers. $32 plus shipping or $30 with either ( or both ) of the above 90* gear box shafts
~~~~~~~~~~~~~~~~~~~~~~~~~~~~~~~~~~~~
PTO pulley puller
The pulley puller uses the 5/16" threaded holes in the pulley to pull it off much easier.
Each unit is supplied with handle and threaded rod with centering point to locate on the crankshaft. Use a 9/16" wrench or socket.
It's used as shown here ( version shown in pictures does not have the weld cutouts, all pullers have that now)
$22 each plus shipping
~~~~~~~~~~~~~
Ross steering box adjustment screw (Cam Follower)
$8 plus shipping
~~~~~~~~~~~~~~~~~
​​​​​​​